Well, even if I wanted to, which I can't say I do, I couldn't buy any of the Gap's designer edition pieces by Vena Cava or Alexander Wang. Why? Because the dresses and pants only go up to size 10. Apparently the pieces run large, but still…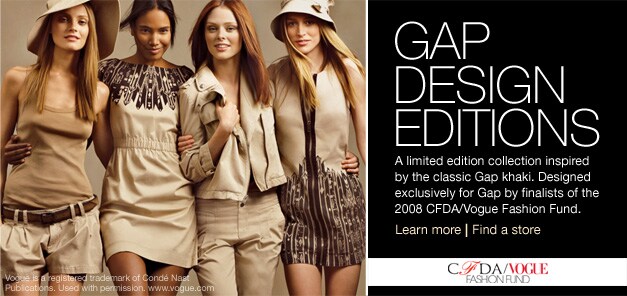 Who's to say who or what made the Gap or the designers only produce garments up to a size 10. I really thought the age of "I don't want larger women wearing my clothes" was over, especially if you're designing for the Gap. Seriously, how much more mainstream can you get? if you don't want "normal" or "average" sized women wearing your clothes, why design for the Gap?
I really can't come up with a logical explanation for why the Gap/Alexander Wang/Vena Cava only designed up to a size 10. You can always find things at the Gap in sizes up to 16, no problem….maybe they didn't have enough money to add sizes 12 – 16? Right.
All I can say is that I'm disappointed. Even if I wasn't a size 12, I would still be disappointed. Only producing up to a size 10 or 8 is something I would absolutely expect from the designers themselves, or perhaps if they were doing a collaboration with Kirna Zabete or something. But NOT the Gap. Shame on ALL of them.
Then again, the Gap's CFDA designer collaborations haven't been raging successes so far…I wonder why…
Am I wrong here? What do you think?